Plans to convert Amounderness House into serviced offices and workspace move forward with appointment of preferred operator
17 February 2023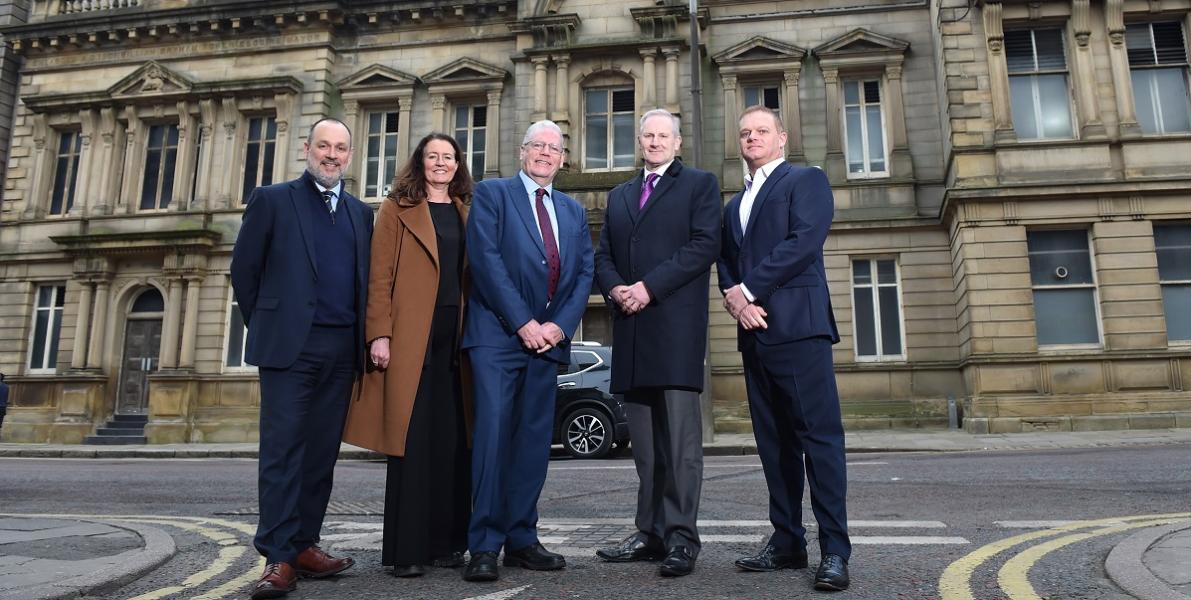 Plans by Preston City Council to transform the Grade II Listed Amounderness House into serviced offices and managed workspace accommodation have moved a step closer with a tenant having been selected to operate the facility.
The Council and its development manager Maple Grove Developments, identified W_rkspace, operator of seven business centres in the North West of England including five in Preston, as the preferred tenant to lease the former police station and magistrates court situated on Lancaster Road.
Following a complete refurbishment of the property by the Council, W_rkspace will occupy and operate the 23,842 sq. ft. across three floors in the property from late 2025.
The £7.4million scheme is one of six major projects planned under Preston's Harris Quarter Towns Fund Investment Programme, for which the city was awarded £20.9m from the Government's national Towns Fund initiative in March 2021.
Harris Quarter is a unique quarter of the city centre undergoing a £200m investment programme to transform its historic buildings, sites and public realm into a diverse culture, leisure and employment offering, with Amounderness House located beside the £45m+ Animate cinema and leisure complex granted planning permission in March 2022 and due to open in 2024.
The rejuvenation of Amounderness House into a modern, flexible, multi-use workspace hub will help to stimulate business, cultural and community uses in the city centre.
Having considered a report on the future use of Amounderness House by the Director of Environment and Property, the City Council:
approved W_rkspace as the preferred tenant to operate Amounderness House as serviced offices and managed workspace accommodation;
authorised the Council to enter into an agreement for lease with W_rkspace as the preferred tenant for a pre-letting of Amounderness House;
and authorised the Director of Environment and Property to negotiate and agree any further terms that may be required to enter into the leasing agreement with W_rkspace.
Councillor David Borrow, Cabinet Member for Planning and Regulation said:
"This is a significant step forward in the rejuvenation plans for one of Preston's grandest buildings. It will be wonderful to see new life breathed into a heritage property that has had such a rich history and impact on the city centre over the years. Not only will it repurpose an empty property, generating income for the city, but it will boost new footfall in the area, provide new jobs and support local businesses and the city centre economy."
W_rkspace, a leading provider of office accommodation in the North West, operates seven business centres, five in Preston and two in Bolton. The firm's growing portfolio accommodates more than 100 physical office clients and over 150 virtual office businesses.
Rizwan Seth, managing director of W_rkspace, said:
"We're delighted with the recent announcement that W_rkspace has been chosen to be the principal operator for the new flexible workplace business centre within the Amounderness House development.

"W_rkspace brings its own unique brand of flexible working solutions to the heart of the city. Offering outstanding opportunities for local established companies, alongside fantastic facilities to help start-up businesses looking to achieve first steps of their business journey.

"The W_rkspace team feel proud to accompany this exciting city development and look forward to many fruitful and rewarding partnerships with the proud business community within Preston."
Nik Puttnam, senior development manager with Maple Grove Developments, said:
"This is an exciting milestone in this project and Maple Grove are proud to be working with W_rkspace and the City Council to bring forward the redevelopment of Amounderness House. The building offers an opportunity to create an exciting workspace within a heritage asset and work will now start with the team to work up the planning application and listed building consent."
Towns Fund - Town Deals
On 27 July 2019, the Prime Minister announced that the Towns Fund would support an initial 101 places across England to develop Town Deal proposals, to drive economic regeneration and deliver long-term economic and productivity growth. See further details of the announcement by visiting GOV.UK - PM speech at Manchester Science and Industry Museum.
A Town Deal is an agreement in principle between government, the Lead Council and the Town Deal Board. It will set out a vision and strategy for the town, and what each party agrees to do to achieve this vision.
See the 101 places being supported to develop Town Deals. Each of the 101 towns selected to work towards a Town Deal also received accelerated funding last year for investment in capital projects that would have an immediate impact and help places "build back better" in the wake of Covid-19.
Preston's City Investment Plan is a 15-year vision for Preston setting out Preston's long-term objectives and strategy to transform the city, targeting resources and aligning public and private sector investments to respond to needs and capitalise on opportunities for positive change.

Preston City Council actively applies and prioritises the principles of Community Wealth Building wherever applicable and appropriate. Community Wealth Building is an approach which aims to ensure the economic system builds wealth and prosperity for everyone. For more information see community wealth building.
Projects included in Preston's £200 million Harris Quarter Towns Fund Investment Programme are:
Animate - £45m multi-use entertainment and leisure complex anchored by a state-of-the-art cinema and bowling venue next to Preston Markets
Educate Preston: The creation of a new Careers and Employment, Information, Advice and Guidance Hub in the Harris Quarter.
Renewal of Harris Quarter Assets: Investment to support the redevelopment of publicly-owned buildings in the Harris Quarter to support new cultural and community uses including Amounderness House.
lluminate and Integrate: A project to deliver improved pedestrian and cycleway infrastructure, street lighting and other public realm improvements within the Harris Quarter.
Preston Youth Zone:The development of Preston Youth Zone as a state-of-the-art facility for young people in Preston aged eight to 19.
#HarrisYourPlace:The refurbishment of the Grade I listed Harris Museum, Art Gallery & Library, enhancing and protecting the building for generations to come.
Preston Pop Ups: £1m pop-up programme of events bringing together new temporary event space, artworks and improvements to public realm infrastructure, aimed at boosting visitor activity in the Harris Quarter.
For more information visit Invest - renewal of Harris Quarter Asset.
Media Enquiries
Nicole Billington, Preston City Council 01772 906349
Claire Stephenson, Limitless PR 07929 969664
Justin Strong, Limitless PR 07738 556 528
Image caption
Left to right outside Amounderness House:
Nik Puttnam, Senior Development Manager, Maple Grove Developments
Julie Palmer, Regeneration Manager, Preston City Council
Councillor David Borrow, Executive Member for Planning and Regulation
Adrian Phillips, Chief Executive, Preston City Council
Christian Lincoln, Sales Director, W_rkspace