Boost; Lancashire's Business Growth Hub reveals new £3.9m business support programme in tenth year
9 November 2023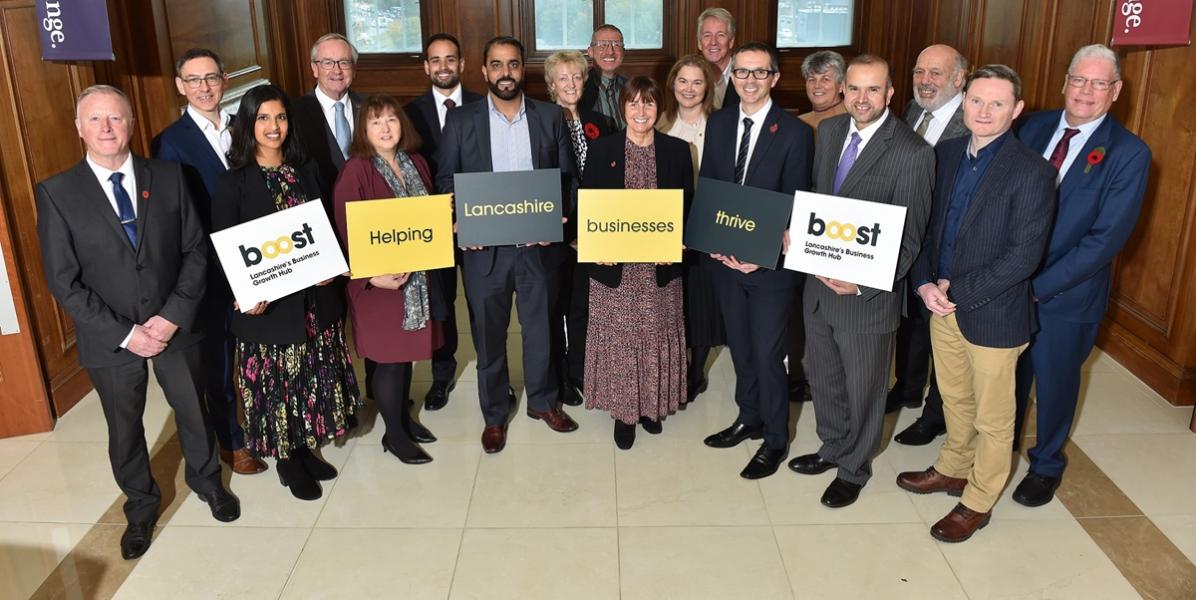 A business support programme aimed at helping Lancashire businesses start, grow and thrive has unveiled a new range of services, thanks to a fresh £3.9m funding deal.
The new funding will ensure that Boost; Lancashire's Business Growth Hub, continues until March 2025, with a potential extension beyond that.
Led by Lancashire County Council, Boost, which celebrates its tenth anniversary in 2023, has supported more than 14,000 businesses since its launch in 2013, creating more than 3,500 jobs.

The Growth Hub is aiming to support 1,525 more businesses, in addition to helping 125 new businesses start and create more than 1,000 new jobs.
The £3.9million Boost programme is made up of contributions from Lancashire County Council (£1.2m), UK Shared Prosperity Fund allocations from 10 partner local authorities, and the Department of Business & Trade (£2.7m).
The partner local authorities are Blackburn with Darwen Council, Burnley Council, Chorley Council, Fylde Council, Hyndburn Borough Council, Pendle Borough Council, Preston City Council, South Ribble Borough Council, West Lancashire Borough Council and Wyre Council.
The Boost support offering will include a new Business Support Helpdesk, which offers advice and guidance to anyone thinking of starting a business in Lancashire, as well as businesses already trading in the county. The Helpdesk will provide business owners with guidance on available local, national and sector business support.
Businesses in the 10 partner local authority areas will also have access to a Business Advice Service, led by a team of experienced advisers. This service includes a 360-business review, a business support action plan and access to business clinics.
Boost has also revealed a new Flying Start programme, delivered by Lancashire-based Selnet, and has appointed national business support provider, the Growth Company, to deliver a Growth Catalyst programme, and a Scale to Thrive programme.
The Growth Hub will also deliver a new Access to Finance service to help businesses find and secure finance and funding.
County Councillor Aidy Riggott, cabinet member for economic development and growth, Lancashire County Council, said:
"It's been ten years of impact for Boost and we are firmly setting the dial towards the future with a comprehensive range of services and programmes to help more entrepreneurs and leaders start, grow and thrive, especially those that have not received support from Boost.

"We are delighted to work in partnership with more local authorities to provide a tailored business support function to meet the unique needs of our local sectors, as well as helping all Lancashire businesses through our new helpdesk.

"Lancashire's entrepreneurial spirit is thriving. We are seeing a growth in people aspiring to start a business and huge demand from existing businesses to grow, scale and create jobs. We want to feed and fuel that ambition."
Andrew Leeming, programme manager of Boost, added:
"This is a powerful and exciting new Growth Hub partnership offering a rich breadth of business support to owners and leaders across the county.

"We look forward to collaborating with all Lancashire local authorities, public and private sector partners to ensure Lancashire business owners and directors get the right business support to help them solve problems, improve their business and achieve their goals, collectively unlocking the economic potential of our brilliant county.

"If any business is unsure what support is available, our business support helpdesk is here to guide them."
Lancashire business owners and leaders can get in touch with Boost by calling 0800 488 0057 or visit Boost - contact us.
Wider business support
For wider business support around areas such start ups, business development, financial and recruitment, see our business support section.