Ceremonial Coins added to £45m+ Animate Steelwork
19 September 2023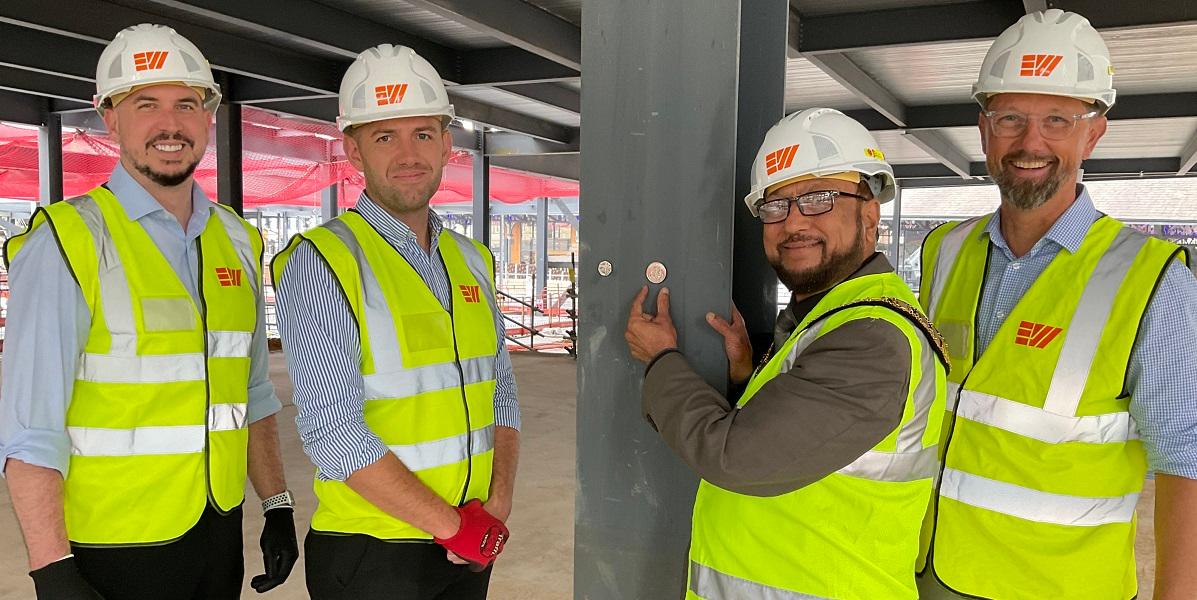 To mark the progress of Preston's £45m+ Animate leisure complex, two ceremonial coins were added to the construction project's steelwork being built by the Eric Wright Group.
A 50 pence Windrush coin, which celebrates 75 years since HMT Empire Windrush docked in England, and a £5 coin to mark the coronation of King Charles III were installed by the Mayor of Preston, Councillor Yakub Patel.
Cllr Yakub Patel said:
"As we mark the progress of the Animate, we thought it appropriate also to acknowledge significant events during its construction.

"The coins are a simple way of acknowledging what's happened in society and how citizens to royalty have contributed to shaping British culture."
The Animate leisure complex is one of six major projects planned under Preston's Harris Quarter Towns Fund Investment Programme, for which the City was awarded £20.9m from the Government's national Towns Fund initiative in March 2021.
Harris Quarter is a unique area of Preston undergoing a £200m investment programme to transform its historic buildings, sites and public realm into a diverse culture, leisure and employment offering. The £45m+ Animate cinema and leisure complex is due to open in Spring 2025.
Picture - Left to Right:
Mike Costello Quantity Surveyor, Eric Wright Construction
Matt Friedmann Project Manager, Eric Wright Construction
Cllr Yakub Patel Mayor of Preston
Nick Hague Project Director, Maple Grove Developments
Further information
Towns Fund - Town Deals
On 27 July 2019, the Prime Minister announced that the Towns Fund would support an initial 101 places across England to develop Town Deal proposals, to drive economic regeneration and deliver long-term economic and productivity growth. See further details of the announcement.
Preston's City Investment Plan is a 15-year vision for Preston, setting out Preston's long-term objectives and strategy to transform the City, targeting resources and aligning public and private sector investments to respond to needs and capitalise on opportunities for positive change.
Harris Quarter Towns Fund Investment Programme
Projects included in Preston's £200 million Harris Quarter Towns Fund Investment Programme are:
Animate - £45m multi-use entertainment and leisure complex anchored by a state-of-the-art cinema and bowling venue next to Preston Markets
Educate Preston - The creation of a new Careers and Employment, Information, Advice and Guidance Hub in the Harris Quarter
Renewal of Harris Quarter Assets - Investment to support the redevelopment of publicly-owned buildings in the Harris Quarter to support new cultural and community uses, including Amounderness House
Illuminate and Integrate - A project to deliver improved pedestrian and cycleway infrastructure, street lighting and other public realm improvements within the Harris Quarter
Preston Youth Zone - The development of Preston Youth Zone as a state-of-the-art facility for young people in Preston aged eight to 19
#HarrisYourPlace - The refurbishment of the Grade I listed Harris Museum, Art Gallery & Library, enhancing and protecting the building for future generations
Preston Pop Ups - £1m pop-up programme of events bringing together new temporary event space, artworks and improvements to public realm infrastructure, aimed at boosting visitor activity in the Harris Quarter
Community Wealth Building
Preston City Council actively applies and prioritises the principles of Community Wealth Building wherever applicable and appropriate. Community Wealth Building is an approach which aims to ensure the economic system builds wealth and prosperity for everyone. For more information visit Preston City Council - community wealth building.