New £207m motorway junction and link road to open in Preston
Monday 3 July 2023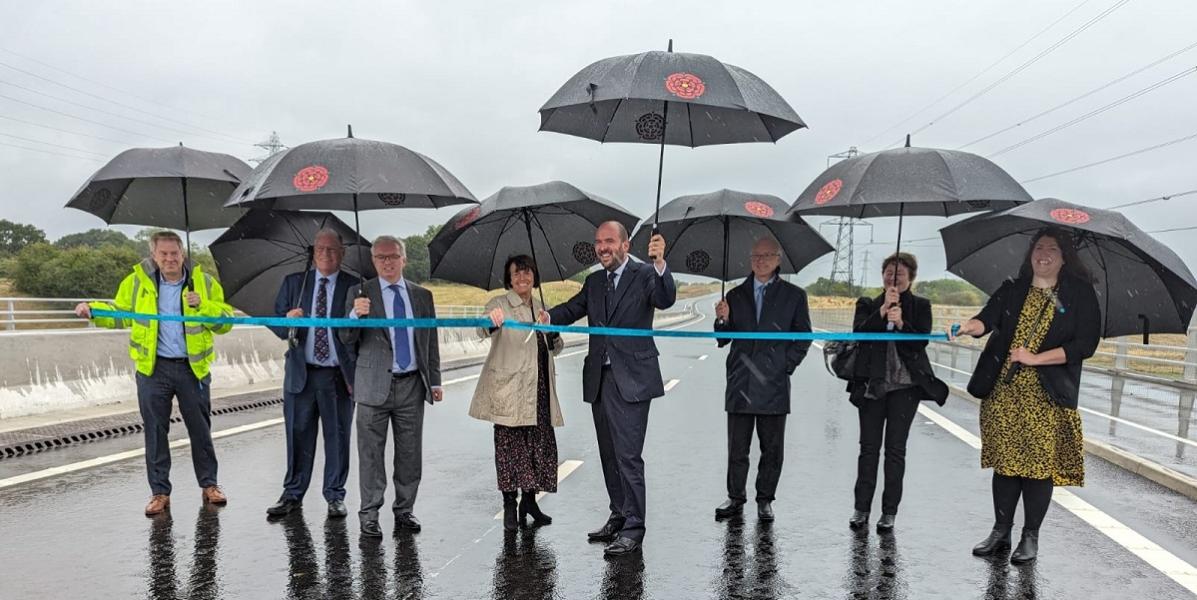 A major new £207m road scheme linking parts of Preston and the Fylde Coast to the M55 motorway, will open to the public at 11am today (Monday 3 July).
Edith Rigby Way, the longest and most significant road in the Preston Western Distributor project, links the A583 Blackpool Road and Riversway with the new junction - the 'missing' junction 2 - on the M55.
The new road is named after Edith Rigby in honour of Preston's most famous suffragette, who dedicated most of her life to fighting for women's rights, particularly those of working-class women.
Work on the scheme, which includes two smaller roads, began towards the end of 2019 and took place through the Coronavirus pandemic. These three new roads connect key parts of the city, aim to reduce congestion on the existing road network, help people to get around, and unlock new economic opportunities for Preston and Lancashire as a whole.
The scheme includes two smaller link roads: William Young Way and Avice Pimblett Way, which connect to new and existing housing areas of North West Preston and Cottam.
These two roads are named after Victoria Cross recipient William Young, and Avice Pimblett OBE, who was the first woman town councillor, first woman alderman and first woman mayor of Preston.
The new roads provide direct access to new housing in the area and will support further developments in the future.
As well as promoting walking and cycling, the new roads will improve access to the motorway and will also support delivery of a proposed railway station at Cottam.
The new roads have been constructed by Costain, on behalf of Lancashire County Council, as part of the Preston, South Ribble and Lancashire City Deal.
Funding for the new road comes from the Department for Transport and the Lancashire Growth Deal, managed by the Lancashire Enterprise Partnership, with further funding coming from Lancashire County Council, National Highways and City Deal.
City Deal aims to create more than 20,000 new private sector jobs and more than 17,000 new homes built across the area, along with new school places and open green spaces to cater for the growing population. It is an agreement between the Lancashire Enterprise Partnership and Preston City Council, South Ribble Borough Council and Lancashire County Council, along with central government and Homes England.
The scheme also aligns with the core aims of the Lancashire 2050 framework, which is bringing Lancashire's 15 councils together with a shared vision, shared ambition, shared goals and shared priorities.
Find out more about the new roads at Lancashire - PWD.
Roads Minister Richard Holden, said:
"Hundreds of thousands of Lancashire residents rely on our local road network to get around for work, education, hospital appointments and to see loved ones, whether that's by car, bus, or cycling and walking.

"That's why it's fantastic to see the new Edith Rigby Way finally open thanks to this Government's £31 million investment, which will help reduce congestion, cut journey times and create new local jobs, as we continue to improve transport connections to grow the economy."
County Councillor Phillippa Williamson, leader of Lancashire County Council, said:
"This opening marks a significant achievement in our ongoing efforts to improve connectivity and access to public transport infrastructure in Lancashire.

"The new road will help to reduce congestion in certain parts of Preston, reduce travel times, open up access to sites for new homes, and unlock opportunities for economic growth and development.

"Thank you to everyone who has been involved in this project, especially during the pandemic. We look forward to seeing the positive impact it will have on Preston and other parts of Lancashire."
Mark Rawstron, Chair of the City Deal Executive, said:
"The City Deal was a landmark agreement designed to transform Preston and South Ribble through the creation of new jobs and homes. The funding from City Deal has been instrumental in enabling growth through the expansion and improvement of transport infrastructure in the region, at scale.

"The Preston Western Distributor is a great example of this strategy in action. It also demonstrates how programmes like the City Deal can complement other funding streams, such as the LEP's Growth Deal, to bring forward investments which generate significant benefits for the whole of the county."
Councillor David Borrow, Preston City Council's Cabinet Member for Planning and Regulation, said:
"The main new road is named after Edith Rigby in honour of Preston's most famous suffragette, who dedicated most of her life to fighting for women's rights, particularly those of working-class women. Improving the life of our residents remains at the heart of everything we do and this project has already benefited local businesses, provide local job opportunities and student placements, and bolstered the local economy.

"Providing better access to new and existing housing developments in North West Preston and Cottam, the new road will improve air quality and the traffic flow in the area for our residents."
Debbie Francis OBE, Chair of the Lancashire Enterprise Partnership, said:
"It's fantastic that the Preston Western Distributor has been officially opened. The scheme has been designed to not only improve our access to the national motorway network, but also open up new housing sites, new industrial sites, and unlock other new commercial opportunities.

"The £58m of Growth Deal funding which helped ensure its completion is also a clear example of how LEP investment can be used strategically to support transformational projects which benefit the whole of the county."
Bruce Parker, National Highways' head of planning and development in the North West, said:
"We're delighted the opening of the road today includes a brand new junction for the M55. We've made a significant investment in this project from money we've specially allocated to support new jobs and homes through brilliant local partnerships like this one with the county council and others.

"As well as supporting the local economy, the new M55 junction two helps relieve congestion at other junctions along the motorway and help provide smoother and more reliable journeys for businesses, commuters and other motorway users."
Jon Irvine, Development Director, Homes England:
"It is fantastic to see the Preston Western Distributer opening today. This significant piece of infrastructure will allow better connections to be made across Lancashire and importantly for housing and economic growth to be stimulated across the sub-region.

"Homes England is proud to have supported delivery of such an important piece of infrastructure."