Next stage of construction work starts on Preston's £45m+ Animate leisure complex
12 April 2023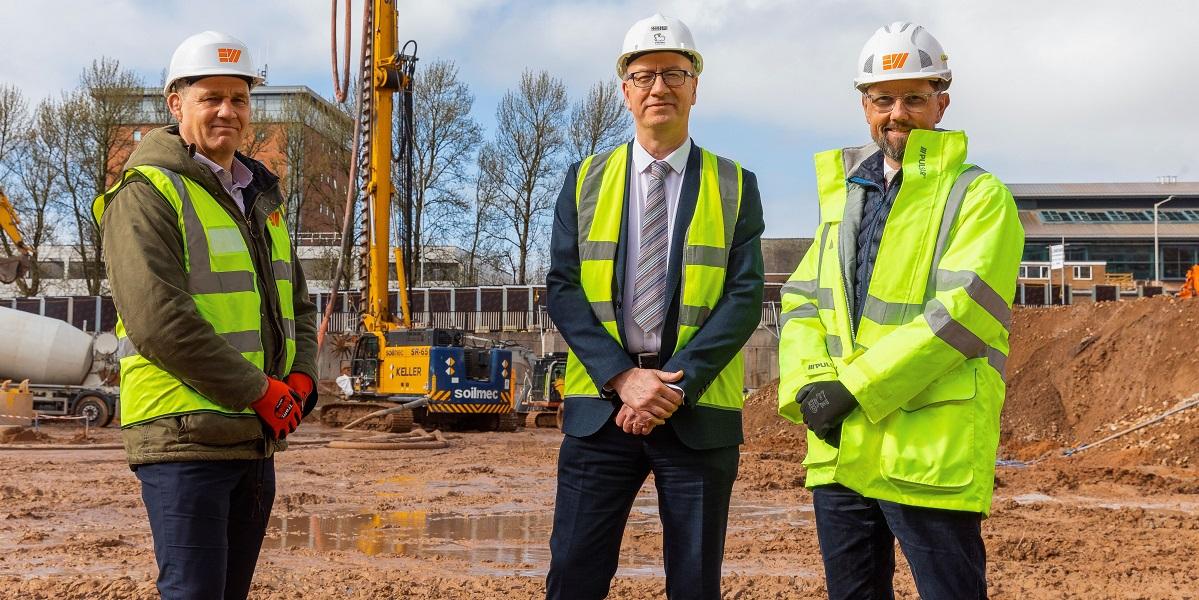 Piling work has started on Preston's Animate leisure complex. The £45 million+ scheme is one of six major projects planned under Preston's Harris Quarter Towns Fund Investment Programme.
Preston was awarded £20.9m from the Government's national Towns Fund initiative in March 2021, and the Harris Quarter is a unique part of the city centre undergoing a £200m investment programme to transform its historic buildings, sites and public realm into a diverse culture, leisure and employment offering.
Piling work on the Animate project will be completed in June, with works starting on the steel structure shortly afterwards. All construction work is expected to be completed in late 2024.
Chair of Preston's Towns Fund Strategic Board, John Chesworth, said:
"The start of the piling work is an auspicious occasion and marks another step toward the renaissance of Preston. The Animate complex has already attracted well-respected leisure brands, and together they'll create an impressive offering of activities that will increase footfall to the City, bringing additional economic benefits.

"We're making solid progress with our collective vision for Preston, and momentum is building."
Chris Hayward, director of development and housing at Preston City Council, added:
"Animate is the flagship project within the Harris Quarter regeneration programme which is part of the broader £200 million City Investment Programme, which heralds a new era for Preston and its residents. Animate will act as the catalyst for the wider City's social, economic and physical regeneration, creating lasting benefits for all."
Nick Hague, director at Maple Grove Developments, concluded:
"Animate will be an exemplar of what can be achieved when the public and private sector work together. A huge amount of collaboration has taken place for us to reach this point and we're now very excited to be on site and delivering this superb scheme for the people of Preston."
Media Enquiries
Nicole Billington, Preston City Council 01772 906349
Michael Gregory, Limitless PR 07813 006 842
Justin Strong, Limitless PR 07738 556 528
Further information
Towns Fund - Town Deals
On 27 July 2019, the Prime Minister announced that the Towns Fund would support an initial 101 places across England to develop Town Deal proposals, to drive economic regeneration and deliver long-term economic and productivity growth.
Preston's City Investment Plan is a 15-year vision for Preston, setting out Preston's long-term objectives and strategy to transform the City, targeting resources and aligning public and private sector investments to respond to needs and capitalise on opportunities for positive change.
Preston City Council actively applies and prioritises the principles of Community Wealth Building wherever applicable and appropriate. Community Wealth Building is an approach which aims to ensure the economic system builds wealth and prosperity for everyone.
Projects included in Preston's £200 million Harris Quarter Towns Fund Investment Programme are:
Animate - £45m multi-use entertainment and leisure complex anchored by a state-of-the-art cinema and bowling venue next to Preston Markets
Educate Preston: The creation of a new Careers and Employment, Information, Advice and Guidance Hub in the Harris Quarter.
Renewal of Harris Quarter Assets: Investment to support the redevelopment of publicly-owned buildings in the Harris Quarter to support new cultural and community uses, including Amounderness House.
Illuminate and Integrate: A project to deliver improved pedestrian and cycleway infrastructure, street lighting and other public realm improvements within the Harris Quarter.
Preston Youth Zone:The development of Preston Youth Zone as a state-of-the-art facility for young people in Preston aged eight to 19.
#HarrisYourPlace:The refurbishment of the Grade I listed Harris Museum, Art Gallery & Library, enhancing and protecting the building for future generations.
Preston Pop Ups: £1m pop-up programme of events bringing together new temporary event space, artworks and improvements to public realm infrastructure, aimed at boosting visitor activity in the Harris Quarter.
For more information see Harris Quarter Towns Fund Investment Programme.