Planning permission granted for Preston Youth Zone
7 July 2023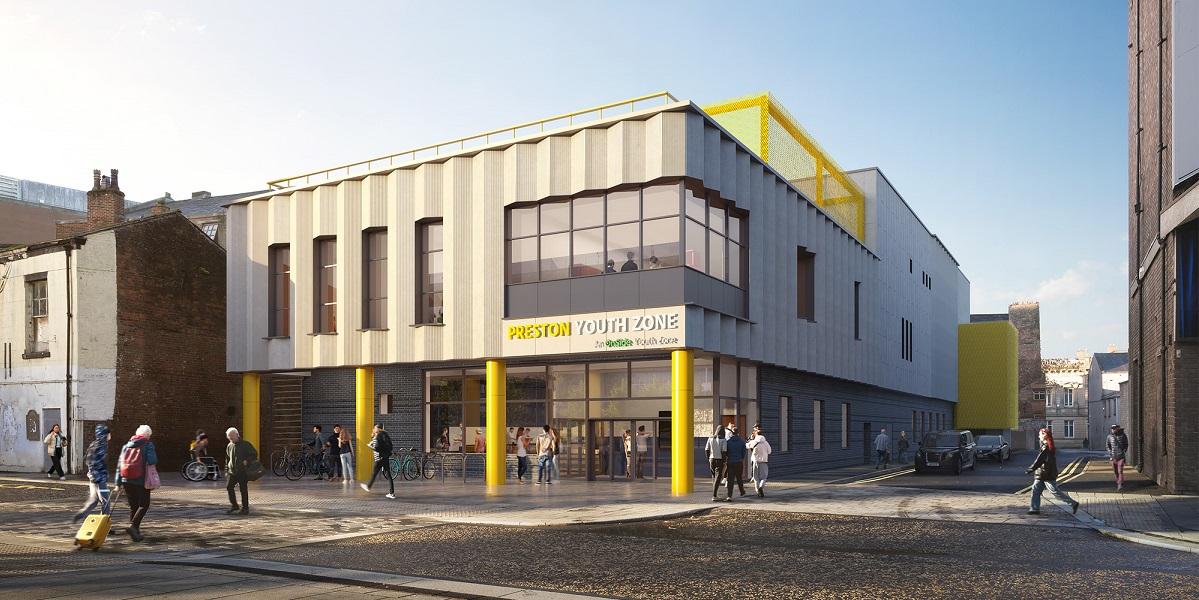 National youth charity, OnSide has received planning approval for a new Youth Zone in Preston. The state-of-the-art youth centre will provide young people with opportunities to engage in activities and access support from skilled youth workers, helping them to develop their skills and reach their full potential.
Expected to open in 2025, the Youth Zone will be located in the town centre on the corner of Crooked Lane and Tithebarn Street. Preston Youth Zone will be open to young people aged 8-19, and up to 25 for those with additional needs, 7 days a week.
For just £5 annual membership, plus 50p per visit, young people will have access to world class facilities including a four-court sports hall, rooftop 3G outdoor kick pitch, gym and boxing and martial arts room for sports, as well as a music room with a built-in recording studio, arts and crafts area, climbing wall, dance studio, sensory room, and mentoring kitchen. The Youth Zone will deliver skills and employability workshops in a dedicated enterprise and employability suite, as well as a wide range of programmes, services and activities. Hot, nutritious meals will be available for just £1 from the Youth Zone's café.
In addition to the incredible facilities, trained youth workers and dedicated volunteers will be available 7 days a week to offer guidance and support to help Preston's young people to thrive. It will create a number of full and part-time jobs and many volunteering opportunities.
Preston Youth Zone is being delivered by OnSide, in partnership with Preston City Council and Preston Towns Fund Board who will be contributing towards the building and running costs. In March it was confirmed that the Youth Zone will receive a grant from the DCMS' Youth Investment Fund which means all of the building costs have now been secured and focus will turn to raising the remainder of the running costs which will come from private sector and philanthropic donations.
It will join the OnSide network of 14 similar Youth Zones supporting over 50,000 young people with locations in Bolton, Blackburn, Carlisle, Wigan, Manchester, Oldham, Wolverhampton, Wirral, Chorley, Warrington, Barking and Dagenham, Barnet, Croydon and East Manchester. While OnSide will develop and oversee the build of the Youth Zone, once open it will be run as an independent, local charity with a private-sector-led board.
Guy Topping, Preston Youth Zone Chair said:
"This is an important milestone in the Preston Youth Zone journey and exciting news for young people living in Preston and beyond. Preston Youth Zone is a local, inspirational charity that will provide thousands of young people with access to activities, opportunities, and support from trusted youth workers. So much hard work has gone into getting us to this point and I want to thank everybody who has helped make this dream a reality".
Councillor David Borrow, Cabinet Member for Planning and Regulation at Preston City Council said:
"This is a major step forward for the project and will be a fantastic boost for youth services in the city. There has been nowhere for our young people to go before now and with a wide variety of sports and art activities, educational and skills support on offer, all at low cost, there will be something for everyone.

"Youth Zones in other towns and cities across the country have had a huge positive benefit and we can't wait for construction to finally get underway. It is testament to the dedication and hard work of all involved who have turned the vision into reality."
John Chesworth, Chair of Preston Towns Fund Board, said:
"The Youth Zone will be a fantastic asset for young people in Preston. Not only will it provide a place for young people to go, but it'll also provide a vital function in providing practical support, advice and guidance to help young people plan for their future.

"Preston Youth Zone is one of six key projects that we are delivering within Harris Quarter, which we are confident will be the catalyst for Preston's wider renaissance and bring additional investment into the City."
Councillor Jennifer Mein, Cabinet Member for Health and Wellbeing at Preston City Council concluded:
"The Youth Zone will play an important role in building community cohesion and providing our young people with access to vital support services that'll help with mental health and general wellbeing. In addition it'll also ensure our young people remain fit and healthy. It'll give them access to a wide range of sporting activities that are shown to help bring people together. It's impact will be far ranging."
Nick Temple, CEO for Social Investment Business said:
"The Youth Investment Fund is enabling more young people to benefit from the life-changing impact of youth work across England, giving them the best opportunities to thrive. It's hugely exciting to see the Onside Preston Youth Zone project coming to life, it's one of the first projects to benefit from the Youth Investment Fund. With planning secured, it means a brand-new youth centre is now in sight. It's an exciting day for young people across Preston, who can look forward to exciting new opportunities to help expand their horizons, have fun, and develop vital skills for life."
Local young people will have the opportunity to get involved in helping to shape their new Youth Zone. Working in partnership with the council and existing providers, OnSide will set up a Young People's Development Group of local young people who will meet regularly to make key decisions for the Youth Zone, including supporting with the design and branding, and interviewing potential staff members.
For further updates on progress visit Onside Youth Zones.
Further information
About OnSide
OnSide is a national charity that believes all young people should have the opportunity to discover their passion and their purpose.
To find out what they've got and where it could take them. We fund and build state-of-the-art, multimillion-pound Youth Zones in the country's most economically disadvantaged areas.
We train the amazing people that run them. We offer continuing support - and the nationwide OnSide Network where they can learn and grow, share their stories and celebrate their success together.
These are brand new, purpose-built spaces fizzing with energy, and crammed with incredible facilities. They offer 20 activities each night ranging from football, climbing and media to skating, DJ-ing, drama and employability training with entry costing just 50p along with a £5 membership.
They are staffed by skilled and dedicated youth workers who truly believe in young people - helping them see what they could achieve, and giving them the skills, confidence and ambition to go for it.
Over 50,000 young people are already members across the OnSide network at our 14 open Youth Zones in:
There are seven new Youth Zones currently at different stages of development in addition to Preston, including Crewe, Barnsley, Grimsby, Salford, South Bristol, Thurrock and Hammersmith and Fulham.
Each Youth Zone is an independent charity with its own private sector-led board. This model of local ownership is a key factor in ensuring the financial sustainability of each Youth Zone. The Youth Zone provides a way for local communities to actively support their young people between the age of 8 and 19 (25 for those with additional needs).
Towns Fund - Town Deals
On 27 July 2019, the Prime Minister announced that the Towns Fund would support an initial 101 places across England to develop Town Deal proposals to drive economic regeneration and deliver long-term economic and productivity growth.
A Town Deal is an agreement in principle between government, the Lead Council and the Town Deal Board. It will set out a vision and strategy for the town, and what each party agrees to do to achieve this vision.
Each of the 101 towns selected to work towards a Town Deal also received accelerated funding last year for investment in capital projects that would have an immediate impact and help places "build back better" in the wake of Covid-19.
To see the 101 towns selected visit GOV.UK - Town Deals full list of 101 offers.
Preston Towns Fund Board
The City of Preston Towns Fund Board is made up of a private sector Chair, local MPs, local government representatives for Preston, the Local Enterprise Partnership, community and local voluntary community representatives, local businesses and other organisations with an interest in the future development of Preston.
For details of the Towns Fund Board membership see Towns Fund.
John Chesworth Chair of Preston Towns Fund Board said:
"One of the key priorities of Preston's 15 year City Investment Plan is to transform the city's cultural infrastructure, focussing on our cultural, heritage and leisure facilities, public spaces and programmes. A significant part of the Towns Fund is focussed on this priority and the Board's role is to provide a strategic overview and guidance for the successful delivery of the six Towns Fund projects. A vibrant cultural life in Preston will be a key driver of economic prosperity for the city and the Towns Fund is the catalyst for further large scale investment in our city."