Preston Youth Zone awarded Youth Investment Fund grant
28 March 2023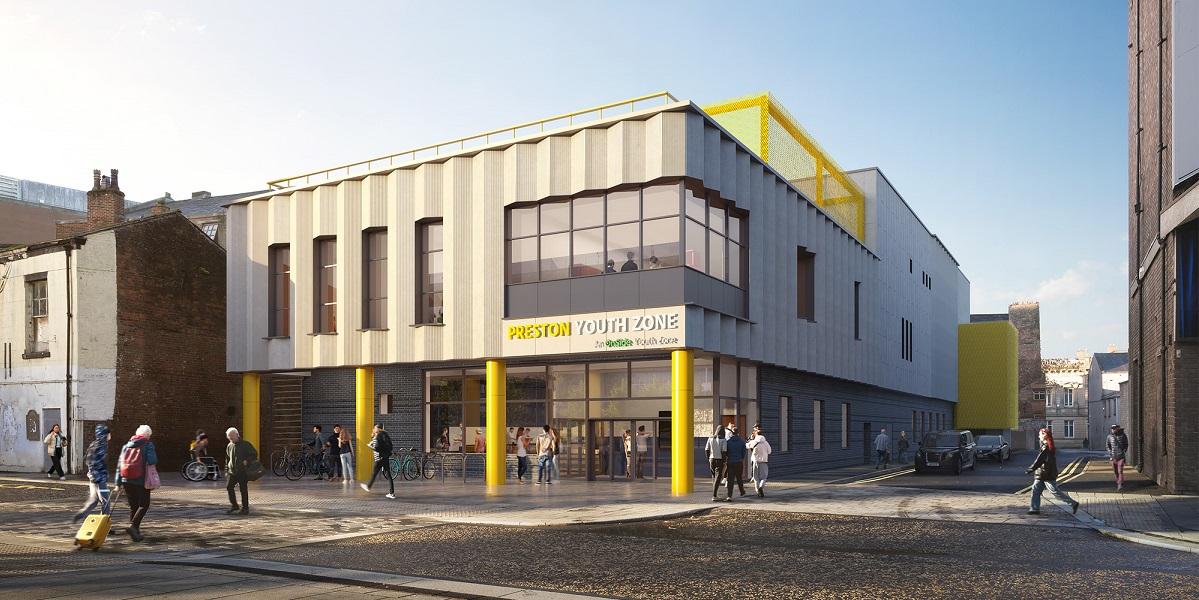 Preston Youth Zone has been awarded a £6.2 million Youth Investment Fund grant to build the new state-of-the-art youth centre.
This means that the Youth Zone, which will be run as a new local charity once opened, has secured all of its building costs and will now focus on fundraising the remainder of its annual running costs, which will come from private sector and philanthropic contributions.
Subject to plans being approved, the Youth Zone is expected to open in late 2024 and will be built on the corner of Crooked Lane and Tithebarn Street, directly opposite the bus station. It will provide thousands of young people with opportunities to engage in activities and access support from skilled youth workers, helping them to develop their skills and reach their full potential.
Preston Youth Zone is being delivered by national charity OnSide, in partnership with Preston City Council and the Towns Fund who will be contributing towards building and running costs. The Youth Investment Fund grant will also go towards the Youth Zone's site preparation and pre-opening costs. Other key supporters of the project include the Eric Wright Charitable Trust.
Once opened, Preston Youth Zone will be an independent charity with a private-sector led board. It will be part of the OnSide Network of 14 Youth Zones nationwide, supporting over 50,000 young people. Youth Zones are open to young people aged between eight and 19 (up to 25 for those with additional needs), seven days a week, for just 50p a visit. Members will have access to an indoor climbing wall, four court sports hall, training kitchen, music room with a recording studio, fully equipped gym, dance and drama studio, 3G kick pitch, arts and crafts room, enterprise and employability suite.
In addition to the incredible facilities, trained youth workers and dedicated volunteers will be available 7 days a week to offer guidance and support to help Preston's young people to thrive. It will create a number of full and part-time jobs as well as volunteering opportunities..
Preston Youth Zone is one of 46 youth services in England to benefit from the first wave of Youth Investment Fund grants, announced by the funder, the Department for Culture, Media and Sport and the charity Social Investment Business, who is delivering the grant programme in partnership with Key Fund, National Youth Agency and Resonance.
It is part of the Government's National Youth Guarantee to transform and level up opportunities for young people in England. The Youth Investment Fund, of over £300 million, aims to build, renovate, or extend youth service facilities, providing a minimum of 45,000 additional positive activities for young people between 11 and 18 - in the parts of the country where new spaces and new opportunities are most needed.
Commenting on the funding, Jamie Masraff Chief Executive at OnSide said:
"We are hugely grateful to the Government for this incredible boost to support Preston's young people and their futures. Times are tough for young people in many ways so this funding comes at a crucial time and will enable thousands of young people in challenging circumstances to benefit from life-changing support available through Preston Youth Zone"
Guy Topping, Chair of Preston Youth Zone said:
"This is a huge deal for Preston Youth Zone, the partnership behind the project and Preston's young people, as we now have all of the funds to cover the building costs and can turn our attention to fundraising the remainder of the running costs. This major investment will provide young people with incredible opportunities to find their voice, increase their confidence and gain new skills. I want to thank OnSide for their continued support and the DCMS for showing their belief in the Youth Zone and Preston's young people."
Culture Secretary Lucy Frazer said:
"Every young person should be given the best possible start in life and we are investing more than £500 million to transform youth services across the country.

"Today we are announcing the first major beneficiaries of a £300 million pot to give thousands more youngsters access to vital services and new opportunities to support and boost their mental and physical wellbeing."
Adrian Phillips, Chief Executive of Preston City Council said:
"It has been an ambition of the city to see a Youth Zone in Preston for over 10 years, in various different guises, and so we are delighted to finally see the funding to build the scheme secured and this significant project move forward to the key stage of development. The project will make a big difference to the youth provision in the city and fill a big gap that has been missing for a long time, as a result of austerity measures and we are delighted to offer our support. The purpose-built, modern facility will give our young people somewhere safe to hang out and have fun, learn new skills, access help with jobs, training and employment and make new friends."
Chair of the Town Deal Board John Chesworth said:
" This is fantastic news for the youth provision in Preston which will make a positive change to the city centre. When the Preston Towns Fund board first met over three years ago, we thought it presented an excellent opportunity to at last deliver a Youth Zone for Preston. It is testament to the hard work and dedication of Guy Topping chair of Preston Youth Zone board and Onside the project lead working really closely and effectively with Preston City Council. It is one of the key Towns Fund projects in the extensive £200m regeneration and investment programme of the city's Cultural Heritage Quarter, an important part of Preston's wider strategic vision of the city (City Investment Plan), and one that has the potential to make the biggest difference to our young people."
OnSide submitted a planning application for the Youth Zone in November, if successful, work is due to start on site in October. For further updates on progress visit Onside Youth Zones - Preston Youth Zones.
For more information, please contact sadie.parkinson@onsideyouthzones.org.

Further information
About OnSide
OnSide is a national charity that believes all young people should have the opportunity to discover their passion and their purpose.
To find out what they've got and where it could take them. We fund and build state-of-the-art, multimillion-pound Youth Zones in the country's most economically disadvantaged areas.
We train the amazing people that run them. We offer continuing support - and the nationwide OnSide Network where they can learn and grow, share their stories and celebrate their success together.
These are brand new, purpose-built spaces fizzing with energy, and crammed with incredible facilities. They offer 20 activities each night ranging from football, climbing and media to skating, DJ-ing, drama and employability training with entry costing just 50p along with a £5 membership.
They are staffed by skilled and dedicated youth workers who truly believe in young people - helping them see what they could achieve, and giving them the skills, confidence and ambition to go for it.
Over 50,000 young people are already members across the OnSide network at our 14 open Youth Zones in:
A number of other Youth Zones are currently at different stages of development including Hammersmith and Fulham, Grimsby, Thurrock, Crewe, Salford, South Bristol and Barnsley.
Each Youth Zone is an independent charity with its own board. This model of local ownership is a key factor in ensuring the financial sustainability of each Youth Zone. The Youth Zone provides a way for local communities to actively support their young people between the age of eight and 19 (25 for those with additional needs). For more details visit Onside Youth Zones.
About the Youth Investment Fund
The Youth Investment Fund forms part of the Government's 'National Youth Guarantee' to ensure every young person across England will have access to regular out of school activities, adventures away from home and opportunities to volunteer. The Youth Investment Fund, of over £300 million, is funded by the Department for Culture, Media and Sport and delivered by Social Investment Business in partnership with National Youth Agency, Resonance, and the Key Fund.
The Youth Investment Fund has been developed to create, expand, and improve local youth facilities and their services in the out of school youth sector, to drive positive outcomes for young people, including improved mental and physical wellbeing, and skills for life and work.
Over the next three years the Youth Investment Fund will fund the building or renovation of 300 youth services and will increase the number of regular positive activities undertaken by young people in the targeted areas by 45,000 per year, by 2026/27.
Social Investment Business is welcoming expressions of interest for Youth Investment Fund projects at any scale or stage of development from organisations for new/renewed facilities that will deliver positive outcomes for young people in selected eligible areas in England. Eligible youth service projects can apply now, with applications open until the final grant committee in March 2024.
To learn more, visit Youth Investment Fund.
Follow on social
Preston's City Investment Plan
Preston's City Investment Plan is a 15 year vision for Preston setting out Preston's long-term objectives and strategy to transform the city, targeting resources and aligning public and private sector investments to respond to needs and capitalise on opportunities for positive change.
For more details see Preston's City Investment Plan.
Towns Fund - Town Deals
On 27 July 2019, the Prime Minister announced that the Towns Fund would support an initial 101 places across England to develop Town Deal proposals, to drive economic regeneration and deliver long-term economic and productivity growth. See further details of the announcement.
A Town Deal is an agreement in principle between government, the Lead Council and the Town Deal Board. It will set out a vision and strategy for the town, and what each party agrees to do to achieve this vision.
See the 101 places being supported to develop Town Deals. Each of the 101 towns selected to work towards a Town Deal also received accelerated funding last year for investment in capital projects that would have an immediate impact and help places "build back better" in the wake of Covid-19.