South Korean visitors learn about ' The Preston Model'
15 May 2023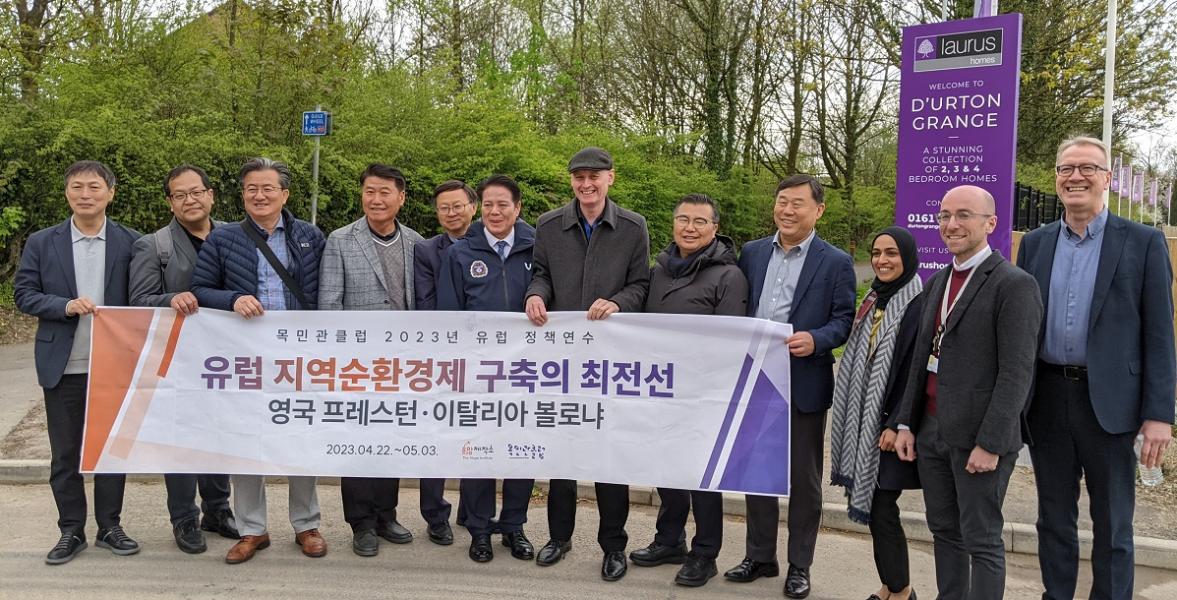 A special delegation from South Korea visited Preston recently to meet Cllr Matthew Brown, Leader of Preston City Council, to learn about 'The Preston Model' and the city's ground-breaking work on Community Wealth Building.
The visiting party, which included six prominent government heads and officials from different provinces and Seoul districts, enjoyed a jammed packed and informative morning schedule, full of presentations about Preston's own Community Wealth Building journey, progressive procurement, the real living wage and cooperative working.
Councillor Matthew Brown said:
'We are honoured to have such a prominent party of officials travel so far, especially to learn more about Community Wealth Building and how we are doing things differently in Preston. It is testament to how far we have come along the journey to build a fairer and more resilient economy for all, but visits like this allow us to learn more and share new ideas for the future."
In the afternoon, the guests visited the Mandala Centre, a city centre yoga and wellbeing hub and Preston's newest worker cooperative. The centre has received support from Preston City Council and funding and support through the Preston Cooperative Development Network.
The group also participated in a short walking tour of the city, seeing the Harris Museum and Art Gallery, The Flag Market, Preston Markets and the famous Wallace and Gromit bench, for a typically Prestonian photo opportunity!
The guests then moved on to Preston East, to see first-hand, modern new-build homes at D'Urton Grange, one of Preston's newest housing developments. The £47m scheme will create 248 new homes for shared ownership, affordable rent and private sale, with 50% of the homes affordable housing, delivered by housing association and charity L&Q and marketed through @Laurus Homes.
Ben Townsend, New Business Director NW at L&Q said:
"We were delighted to show visitors from South Korea around our D'Urton Grange development in Preston, demonstrating the L&Q approach to strategic development. The large scale project on former Homes England owned land, will deliver a range of family homes in a high demand area with a variety of tenures, quality specifications and retained public open space."
The group also visited Community Gateway Association's The Courtyards, Preston's first extra care development specially designed for people over 55. With 60 apartments, on-site housing support and a 24/7 care service, residents can enjoy an independent lifestyle without having to move if their care needs change over time. Community Gateway has supported the Preston Model for over a decade as a key anchor partner.
Lee Garry, Head of Asset Management at Community Gateway Association said:
"We were delighted to welcome the South Korean visitors to our first independent extra care facility - The Courtyards. Our successful development of 60 spacious apartments has had a positive impact on our communities, helping to tackle social isolation and ensuring affordable homes are available for those with care needs which may vary later in life. We are pleased to have been given the opportunity to showcase this achievement and look forward to developing more schemes for our communities."
The last destination on the whistle stop tour was Leighton Street Traveller Site, who have been working closely with Preston City Council to introduce a new cooperative management arrangement for the site making it one of the first cooperative traveller sites in the country.
The site has also recently been awarded funding from the Department of Levelling Up Housing and Communities (DLUHC) from the Traveller Site Fund which will help to refurbish and improve the conditions of the site, including the upgrade of mechanical and electrical equipment for the installation of domestic meters, giving residents greater control over their energy bills and site running costs.
Councillor Matthew Brown continued:
"We were delighted to have the opportunity to share our experience with the group and make new international friends, who share our vision for Community Wealth Building, and we hope that the delegation enjoyed their time in the city and our warm Prestonian welcome!"
Further information
Image caption (left to right): South Korean Delegation at D'Urton Grange with Leader of Preston City Council Cllr Matthew Brown, Zainab Ahmed L&Q Group, Ben Townsend, New Business NW L&Q Group and Chris Hayward, Director of Development and Planning, Preston City Council
Preston City Council actively applies and prioritises the principles of Community Wealth Building wherever applicable and appropriate. Community Wealth Building is an approach which aims to ensure the economic system builds wealth and prosperity for everyone.
Media enquiries:
Nicole Billington: n.billington@preston.gov.uk T: 01772 906349