Animate Cinema and Leisure Scheme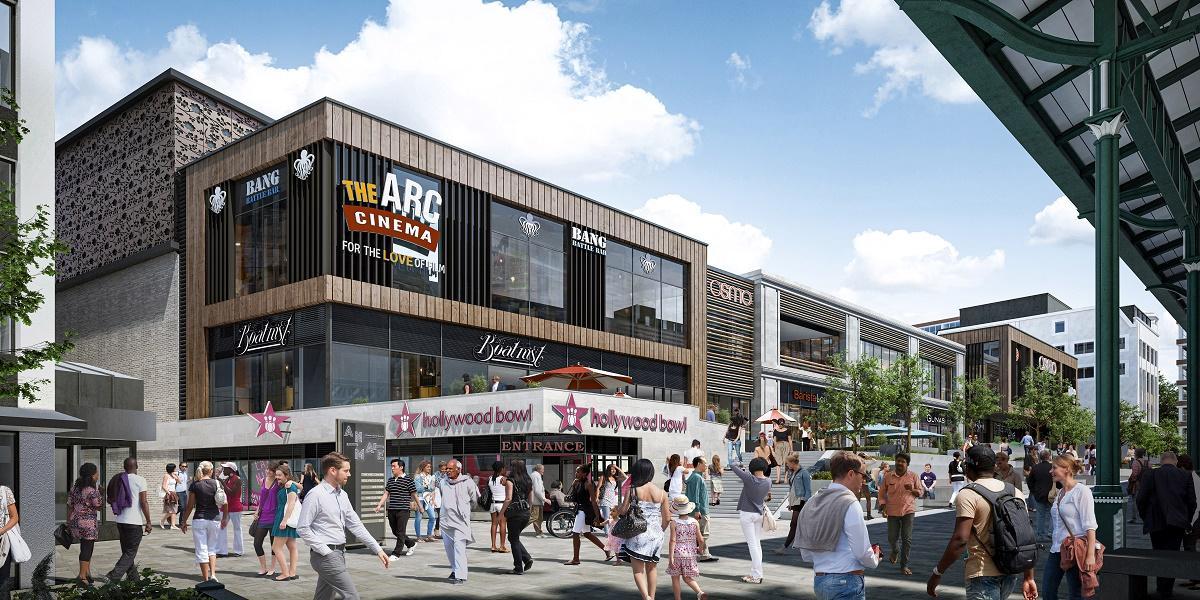 Maple Grove Developments, (part of the Eric Wright Group), on behalf of Preston City Council is delivering Animate Preston - a new 'state of the art' entertainment, cinema and leisure scheme in the city centre.
A flagship regeneration project within the Harris Quarter Towns Fund Investment Programme, Animate is a new £45 million cutting edge cinema and leisure complex situated next to Preston Markets, on the site of the old indoor market and car park.
The redevelopment of this former Indoor Market site is a key part of the City Council's strategy for the city centre.
Whilst planning permission was originally granted in 2016 for a cinema-led scheme, Maple Grove, in partnership with the Council, have progressed plans for a new high-quality design with further refinements in October 2022. The new design refines and improves the previously consented proposals into a deliverable scheme, which satisfies occupier demands as well as the long-term aspirations for regeneration and sustainability in the city centre.
This transformational scheme will create an important go-to entertainment destination in the city centre, supporting Preston's growing cultural offer. Construction work started on site in early 2023 and is well underway. It will be complete in late 2024, opening in early 2025.
Current opportunities
The scheme is almost fully pre-let and the Council via its agents is now inviting interest in the following remaining three units:
Competitive Social Unit (CSU) - 10,075 sq ft
Restaurant Unit - 2,835 sq ft
Street Food Hub - 5,975 sq ft
For details and how to make an enquiry visit Preston City Council - Units to let in Animate - Preston city centre's major new development.
What will the scheme include?
The new scheme will include:
8 screen cinema with bar and restaurant
16 lane bowling alley
Competitive socialising unit (suitable for a range of uses)
5 family restaurant units, involving a range of national and regional brands
A street food hub
Public realm improvements
164 space undercroft car park.
Scheme layout
The proposed scheme offers a significant opportunity to create a high-quality development in the Harris Quarter in the northern part of the city centre.
The proposed layout seeks to deliver a vibrant mixed-use scheme which opens on to a new public space around the markets canopy.
Front Elevation (Market Square)
Side Elevation (Lime House)
Side Elevation (Tenterfield Street)
Rear Elevation (Ringway)
Scheme design
A high-quality design that has evolved to be 'uniquely Preston' in its references and façade solution has been created to reflect the important location of the site within the city centre and its location next to the listed market canopy.
Market canopy frontage
Proposed pavilion design with use of a variety of traditional and more contemporary materials along with large glazed areas to provide a dynamic frontage.
Cinema box (facing Ringway)
Dressing the facades of the cinema is a contemporary patterned metallic panel, the design of which has been influenced by the history of textile production in Preston, as well as the geometric and design of the adjoining art-deco Lancastria House. It provides a dynamic animated façade which can be lit at night to provide a distinctive reference point in the city centre.
CGI view from Ringway looking east
CGI view from Ringway looking west
Sustainability - the scheme has been designed to be highly sustainable
Public realm - the scheme provides a significant opportunity to improve the existing public realm and create new attractive spaces
Transport - The site occupies a highly sustainable and accessible location close to wider amenities within the city centre as well as the bus station.
Wider General Arrangement Plan
Key benefits and next steps
Animate will attract a family friendly audience and strengthen Preston's day and night-time economy. Once complete, the project will create over 100 jobs and be in the ownership of Preston City Council. It will reinvigorate the city centre and help anchor the Harris Quarter as a leading leisure and culture destination in the region.
Key benefits
The Animate scheme will:
Deliver a high-quality leisure destination (cinema, bowling and restaurants) to bring families into the city centre and make Preston the 'place to be'
Improve the Harris Quarter and northern part of the city centre by creating a high quality visually attractive scheme, which complements the successful Preston Markets scheme
Provide a new high-quality public realm area to socialise
Provide an appropriate Changing Places facility
Deliver jobs and associated economic benefits to residents and businesses
Next steps and timescales
Maple Grove Developments and the City Council are committed to delivering the Animate scheme as soon as practically possible.
The current programme is as follows:
November 2021 - Planning application submitted*
May 2022 - Planning permission granted
January 2023 - Construction started on site
Late 2024 - Construction work completed
Early 2025 - Animate opens
*The planning application is informed by a number of technical assessments such as transport, ecology, wind, noise to ensure the proposed development does not create any adverse impacts.
Latest Animate news and updates
Keep up to date with all the latest Animate news and updates on our Animates Cinema and Leisure Scheme news section.