Preston Station Quarter Project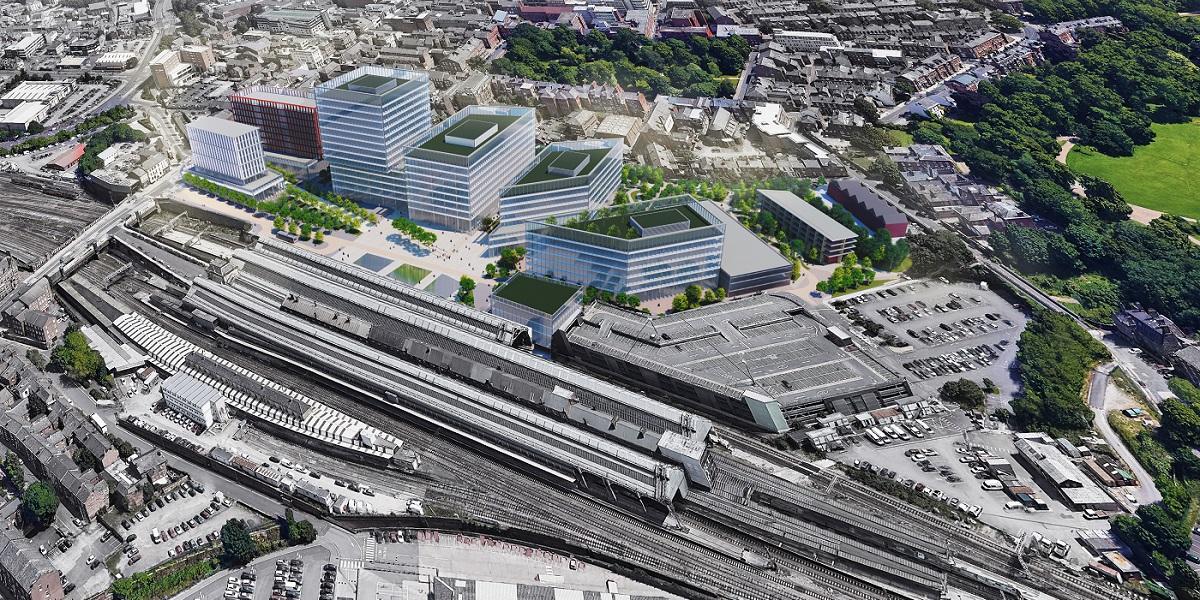 Preston Station Quarter Project presents an opportunity to deliver a step change in the office market by delivering a landmark of Grade A office and commercial space developing the role of Preston City Centre as the commercial centre of Lancashire.
In Preston City Centre, the area surrounding Preston Station has been identified as having significant potential for new employment opportunities in the future. The Station is established as a strategic gateway to the rest of Lancashire, through its position on the West Coast Main Line and the need for all trains within Central Lancashire to stop or terminate at Preston. It is a key arrival and departure facility for commuters, business travellers and shopping/leisure trips.
Recognising these unique circumstances, the project aims to create a Commercial Quarter on the land around the Station to both develop high-grade commercial activity within the city and provide essential Grade A office and commercial space.
The project framework covers an area around the railway station as well as the areas around the Fishergate Centre, County Hall and along Corporation Street to the university. It sets out a blueprint for how this area of the city could be developed in future to bring jobs and growth. The aim is to bring offices and new commercial and educational opportunities, as well as new housing.
Alongside improved connectivity and infrastructure, the project framework also aims to create new civic spaces, landscaping and high-quality public realm to improve the station quarter as a place to live, work and visit.
Preston Station Quarter Project will also work towards achieving one of the city's key strategic priorities around improving Preston's commercial district offer set out in Preston's 15 year City Investment Plan.

Project objectives
Deliver Grade A office space to retain existing private sector occupiers within Preston and Lancashire
Attract new business to the region who need to locate in a city centre environment to attract and retain a skilled workforce
Retain and attract key public sector occupiers (including key office based government department functions in the city), business HQs, and government departments and realise growth opportunities that are intrinsically linked to city centre success.
Provide a welcoming gateway to the city centre which does not currently exist, providing high quality public realm which flows from Fishergate to the University campus and through the retail core to the Harris Quarter
Capitalise on the potential for Preston to be established as HS2 linked station, delivering commercial floorspace in a location which gives occupiers rapid access to the HS2 network
Set the context for work with FirstGroup Consortium for North West Coast Franchise to make the case for Preston Railway Station to be transformed into a high quality contemporary transport hub
Deliver a digital command centre for the management of functions across the city such as traffic control, waste collections and street scene
Draw the UCLan campus towards and to face the city centre
Accommodate a Community Health and Wellbeing building
The Vision
The vision for the Station Quarter is premised on the four key drivers of Education, Health and Innovation; Government and Business;
City Living and Culture; and Connectivity, underpinned by Preston Station - a hub of excellent regional and national transport networks.
Preston's Station Quarter: Lancashire's City Hub for Education, Innovation, Health, Government and Business:
A gateway to Education, Health and Innovation, underpinned by UCLan
A focus for Local and National Government Services and a destination for corporate and private sector business;
Embracing city living with high quality homes offering new residents unrivalled access to city centre culture and amenities;
Benefiting from excellent connectivity within and beyond the city
Preston Station Quarter Regeneration Framework (Draft)
A draft framework has been collated to show the proposed regeneration and redevelopment of the area around the railway station in Preston City Centre.
The framework helps landowners and developers by providing a more joined-up guide to future development.
The following documents make up the draft Preston Station Quarter Regeneration Framework:
This draft document has been jointly created by Preston City Council, Lancashire County Council and the University of Central Lancashire working with key stakeholders and major landowners in this part of the city.
Investment and development opportunities
If you are an investor or developer interested in finding out more about the Preston Station Quarter Project and any associated opportunities please contact Invest@preston.gov.uk
Map address for Preston Train Station
Preston Train Station, Preston, PR1 8AP.