National cafe bar further strengthens tenant line up at Preston's Animate
21 February 2023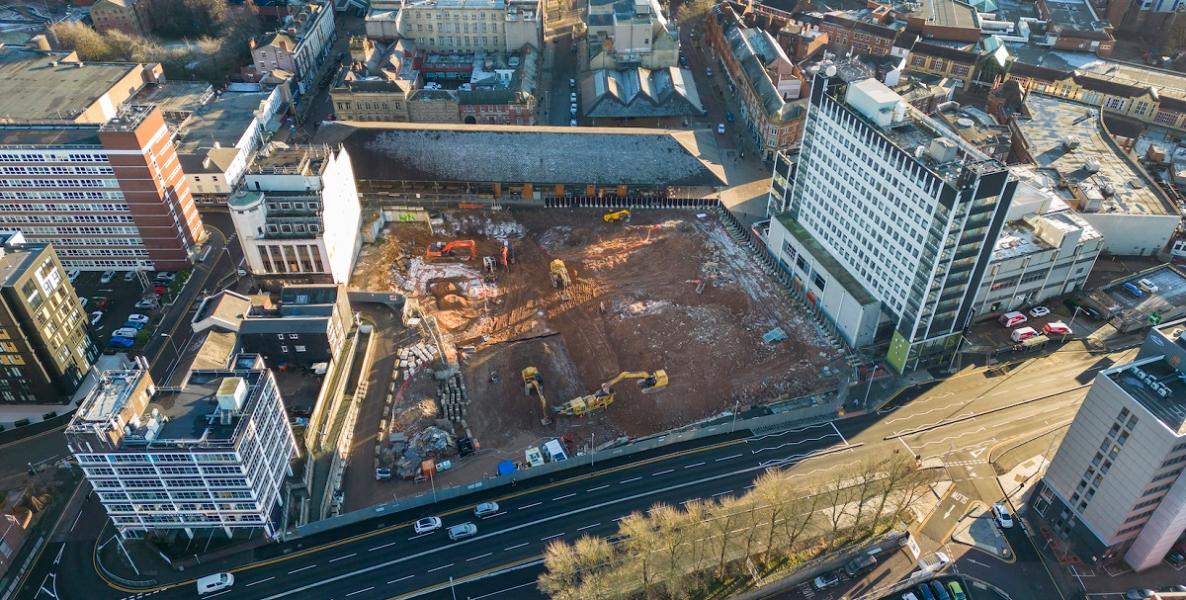 Loungers has signed a 15-year lease at Animate, Preston's city-owned £45 million cinema and leisure complex, which is being delivered by Maple Grove Developments. The announcement comes after Eric Wright Construction started on site last month.
The café bar chain has taken a 4,265 sq ft unit, at an initial rent of £100,000 per annum, in a move which will further strengthen the retail and leisure offer at Animate, joining anchor tenants The Arc Cinema and Hollywood Bowl, as well as other national and regional restaurants and a street food hub. Designed by Leach Rhodes Walker, the wider development will also offer a 164 car park and improvements to landscaping with an outdoor terrace for al fresco dining, street lighting, a changing places facility, improved pedestrian access and new trees.
Only three units are now left: Unit 4 in centre of parade (restaurant); Unit 6 (food hub) and the competitive social space. Bradys and CBRE are the joint lettings agents for Animate and advised Maple Grove Developments. For details on the remaining units and how to make an enquiry visit Preston City Council - units to let in Animate.
Gemma Irwin, Community Manager at Loungers, said:
"We are delighted to be bringing Loungers to Preston. A real home from home, we'll cater for all tastes throughout the day with a varied and innovative all-day menu. Whether it's a coffee with friends, a long lazy brunch with family or a relaxed dinner and drinks, our Lounge will be the perfect place to relax and unwind in good company. Our Lounges strive to put community at the heart of hospitality and our teams always go the extra mile to make a difference."
Councillor David Borrow, Cabinet Member for Planning and Regulation said:
"Loungers is a substantial operator in the UK hospitality sector and the business has proved to be one of the rising stars in the industry over the past three years. It's commitment to Animate is testament to the attractiveness of Preston as a great place to invest in and do business here."
The scheme is funded and owned by Preston City Council, with support from the Towns Fund (£3.4m), City Deal (£3.25m). The scheme's complementary public realm improvements are being supported by a Lancashire County Council Economic Recovery Grant (£800,000).
The Animate development is a key project in Preston's 15-year City Investment Plan and is one of six major projects planned under Preston's Harris Quarter Towns Fund Investment Programme, for which the city was awarded £20.9m from the government's national Towns Fund initiative in March 2021.
Further information
Founded in 1923, the Eric Wright Group is a leading property and construction company that develops, builds and maintains the UK's infrastructure.
Wholly owned by the Eric Wright Charitable Trust, the Group is committed to delivering employment and regeneration opportunities in the communities in which it operates in. All company profits are either invested back into the Eric Wright Group or awarded to charities and projects, predominately throughout the North West, which support young persons' wellbeing, elderly services, education and training, health or carers' support.
The Eric Wright Charitable Trust owns and operates Water Park Lakeland Adventure Centre in Cumbria and is an employer partner and sponsor of the Eric Wright Learning Foundation at Preston's College, which supports young people aged 14+ studying Level 1 - 3 vocational courses and Apprenticeships.
Based at Bamber Bridge, near Preston, the Eric Wright Group comprises seven specialist divisions that regularly collaborate to deliver joined-up approaches with outstanding results and maintain strong relationships with private and public sector clients and partners. The Group's seven divisions are Maple Grove Developments, Construction, Civil Engineering, Water, Health and Care, Facilities Management (FM) and Applethwaite Homes.
About Animate
The construction and development phase will help to generate up to 200 full time equivalent construction jobs for the local workforce, and provide opportunities for apprenticeship, work placements, training and upskilling through Eric Wright Group's corporate and social responsibility programme.
A dedicated Animate Community Benefit Framework has been agreed between Preston City Council and Maple Grove Developments, which will deliver 15 community benefits, in line with Preston's Community Wealth Building programme, to assist the delivery of the project and to provide the maximum impact for Preston's residents and businesses.
The Community Benefit Framework seeks to use local labour, provide training, employment, volunteering opportunities and placements within local colleges, to promote environmental sustainability, and to ensure that all workers are treated equally and fairly.
Animate will also provide more than 140 long term jobs when it opens to the public following a two year construction phase.
For more information see Animate cinema and leisure scheme.
Towns Fund - Town Deals
On 27 July 2019, the Prime Minister announced that the Towns Fund would support an initial 101 places across England to develop Town Deal proposals, to drive economic regeneration and deliver long-term economic and productivity growth. See further details of the announcement by visiting GOV.UK - PM speech at Manchester Science and Industry Museum.
A Town Deal is an agreement in principle between government, the Lead Council and the Town Deal Board. It will set out a vision and strategy for the town, and what each party agrees to do to achieve this vision.
See the 101 places being supported to develop Town Deals. Each of the 101 towns selected to work towards a Town Deal also received accelerated funding last year for investment in capital projects that would have an immediate impact and help places "build back better" in the wake of Covid-19.
Preston's City Investment Plan is a 15-year vision for Preston setting out Preston's long-term objectives and strategy to transform the city, targeting resources and aligning public and private sector investments to respond to needs and capitalise on opportunities for positive change.

Preston City Council actively applies and prioritises the principles of Community Wealth Building wherever applicable and appropriate. Community Wealth Building is an approach which aims to ensure the economic system builds wealth and prosperity for everyone. For more information see Community Wealth Building.
Lancashire County Council's £800,000 Economic Recovery grant is from its £12.8m  Economic Recovery & Growth programme to fund projects across the 12 Lancashire districts to tackle some of the economic impacts of Covid-19 and support recovery and growth.
Contact details
Inform Communications
Social media