Preston's £45m+ Animate leisure complex gets put on tenterhooks
5 October 2023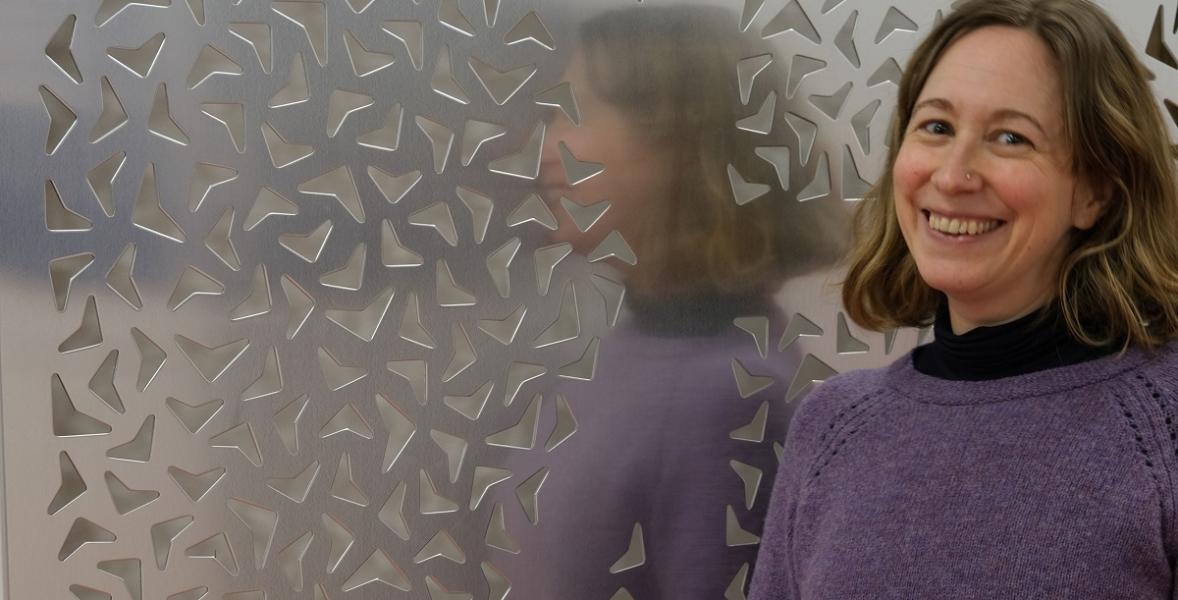 Preston's Animate leisure complex, one of six major projects planned under the Harris Quarter Towns Fund Investment Programme, is to pay homage to the City's history and culture of the Harris Quarter.
Maple Grove, the developers delivering the Preston City Council project, has commissioned a local artist to create a pattern for Animate's metal façade cladding, which wraps the top third of the new leisure complex, forming a key feature in its design.
Bonnie Craig, who has recently completed glass artwork for the University of Central Lancashire's student centre, was appointed to the project and took her inspiration from Animate's location, which is Tenterfield Street. Its name comes from the tenter fields, where outdoor frames held the woven fabric as part of the production process.
The stretched fabric was held in place by tenterhooks, and the shape of these hooks was employed throughout the cladding design.
Bonnie Craig commented on her final design. She said:
"When asked to create designs that explored the area around the Animate site, I was intrigued by the interesting shape and name of Tenterfield Street, as well as the art-deco style design of Lancastria House on one corner of the street.

"I developed a simple shape based on the tenterhook and the street itself. The motif repeats over the metal panels in a grid pattern inspired by the windows, interior wall panels and stonework used in Lancastria House and aims to explore the idea of tension - created in both the tenter frames and the meaning of 'on tenterhooks' - and resolution/visual balance."
Preston was awarded £20.9m from the Government's national Towns Fund initiative in March 2021, and the Harris Quarter is a unique part of the city centre undergoing a £200m investment programme to transform its historic buildings, sites and public realm into a diverse culture, leisure and employment offering.
Almost fully pre-let, Animate will provide an eight-screen cinema, 16-lane bowling alley with gaming zone, five family restaurant units, a street food hub, public realm, a competitive socialising unit and 164-space undercroft car park, with national leisure brands including Hollywood Bowl, ARC Cinemas, Zizzi, Cosmo, Las Iguanas and Loungers already signed up as tenants.
Councillor Matthew Brown, leader of Preston City Council, added:
"I was delighted to hear Bonnie who previously worked with our university was commissioned to do this work which recognises our architectural and industrial past.

"A big part of what we want to achieve is to make Preston a unique and creative place for all to experience. Our council delivering Animate on behalf of the City ensures we build local resilience and artists like Bonnie and locally based people and businesses participate in the process of development."
Chair of Preston's Towns Fund Strategic Board, John Chesworth concluded:
"The Tenterhook design is a sympathetic and welcome acknowledgement of Preston's industrial heritage and the part Lancashire played in building an economy that was incredibly important to the country's prosperity.

"While it's important to recognise our heritage, we must now look to the future and build a Preston known as an attractive place to invest, visit, live and work in."
Further information
Towns Fund - Town Deals
On 27 July 2019, the Prime Minister announced that the Towns Fund would support an initial 101 places across England to develop Town Deal proposals, to drive economic regeneration and deliver long-term economic and productivity growth. See further details of the announcement.
Preston's City Investment Plan is a 15-year vision for Preston, setting out Preston's long-term objectives and strategy to transform the City, targeting resources and aligning public and private sector investments to respond to needs and capitalise on opportunities for positive change.
Preston City Council actively applies and prioritises the principles of Community Wealth Building wherever applicable and appropriate. Community Wealth Building is an approach which aims to ensure the economic system builds wealth and prosperity for everyone.
Harris Quarter Towns Fund Investment Programme
Projects included in Preston's £200 million Harris Quarter Towns Fund Investment Programme are: