Preston's nightlife receives gold standard for safety in run up to Christmas
13 November 2023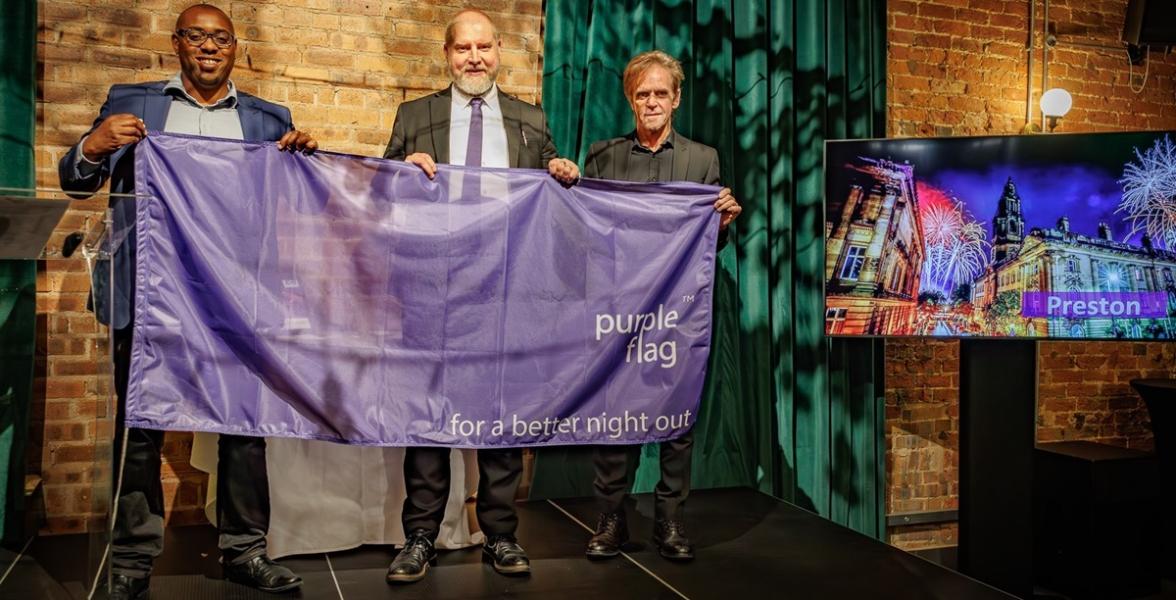 Representatives from the business sector and Preston City Council were formally presented with a Purple Flag at the end of October. It followed the earlier announcement that the city had once again received the coveted accreditation for its nightlife, safety and culture.
The flag, which is currently sited at the Town Hall, will have a permanent city centre home and will be a reassuring sight for all visitors and our new and returning students, in the run up to Christmas.
Like the Blue Flags scheme for beaches, Purple Flag status is given to town centres that meet or surpass the standards of excellence in managing the evening and night-time economy and is seen as the gold standard. Preston was one of the first destinations in the UK to win the award when it was launched in 2011 and has retained it for over a decade. It is the only place in Lancashire to have received the accolade.
Mark Whittle, from Preston City Centre Business Improvement District (BID) was delighted to receive the flag. He said:
"It highlights our commitment to community safety, and we will continue to work with all businesses to ensure Preston is a safe, welcoming and vibrant night time destination."
In addition to the Purple Flag, visitors, shoppers and revellers can also be reassured by the continuing visible presence of the Street Safety Officers, who will be out and about over the festive season and well into the New Year. The team, who operate out of the Box Market, are funded through a UK Shared Prosperity Fund grant and are there to help anyone who feels vulnerable or becomes unwell. They also monitor incidences of anti-social or inconsiderate behaviour and liaise with 24/7 Council CCTV operators, emergency services, door supervisors and Street Pastors 'Kentdale'. Through this joined-up approach, all agencies can provide cover from 10pm to 4am each day.

With lots on offer over the festive season, including the Christmas Lights switch on 18 November, a host of crafty workshops run by The Harris, festive films, carol-singing and Santa's Grotto at Preston Markets on 9 December, it's a wonderful time to visit the city for shopping, entertainment or meeting up with friends. For the first time, there will also be a chance for people to get up close to an enchanting interactive Fire Garden in Avenham and Miller Parks on 2 and 3 December.
Councillor Peter Kelly, Cabinet member for Arts and Culture atPreston City Council, said:
"There's really something for everyone in Preston during the festive season. We are going to celebrate in style and we hope that as many visitors as possible will come and share the magic that is Preston in winter."
To find out more about what's on this Christmas see Visit Preston - Christmas in Preston 2023.
Photo caption (left to right): Ojay McDonald CEO of Association of Town and City Management (ATCM), Mike Pixton Preston City Centre Business Improvement District (Preston BID), Peter Alexander Chair of Preston At Night.
Further information
Information on the Purple Flag Scheme can be found at National Business Crime Centre - Purple Flag Scheme
The UK Shared Prosperity Fund is a central pillar of the UK government's Levelling Up agenda and provides £2.6 billion of funding for local investment by March 2025. The Fund aims to improve pride in place and increase life chances across the UK investing in communities and place, supporting local business, and people and skills. For more information, visit GOV.UK - UK Shared Prosperity Fund Prospectus.
Preston City Council actively applies and prioritises the principles of Community Wealth Building wherever applicable and appropriate. Community Wealth Building is an approach which aims to ensure the economic system builds wealth and prosperity for everyone.